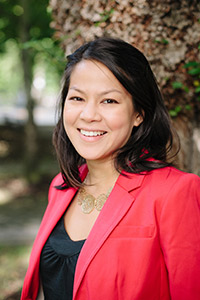 Joleen is a strong advocate of the nonprofit sector's role in bringing about social change, and the power of smart communications and technology to make this happen. Originally from New York, she is a communicator and marketer by nature, dedicated to increasing visibility for change agents and marginalized voices worldwide.
Prior to NTEN, she served as the Communications Manager at the human rights organization Social Accountability International. Joleen's roots are in campus organizing, having led numerous successful campaigns to increase responsible procurement with Fair Trade products. Her passion stems from her field work in Costa Rica, where she conducted ethnographic research on the social impact of banana workers, while running a small cafe with her husband.
Joleen earned her MS in Nonprofit Management from the New School's Milano School in New York, and BA in International Studies and Spanish/Anthropology at the College of New Jersey. She has led presentations on the topic of nonprofit marketing, communications and sustainability worldwide, including in India, Italy, Germany, UK and US. She is a blogger at the nonprofithive.org and webinar trainer at fundsforngos.org. She is also a contributor to the upcoming 2014 publication, 'Annual Editions: Technologies, Social Media, and Society' and editor of two award-winning short documentaries on social justice issues.