Show Me the (Online) Money!
This article was written by guest author Alexa Langford, Manager of Research & Analytics, Grizzard.
We know that today's donors are living in a multi-channel world, with ever-increasing ways to give. Many of these new solicitation channels end up with the actual donation taking place on the organization's website, and are considered online gifts. And according to Grizzard's 2014 DonorGraphics™ survey, 31% of donors prefer making charitable donations online, eclipsing mail (preferred by 26%) for the first time ever.
And so, many organizations now understand that synchronizing the messaging on their website with online and offline communications is a key way to increase revenue. If a donor receives a matching gift appeal in the mail, then goes online to donate and sees the same matching gift message in a homepage bug, their experience is more connected and uniform. These types of coordinated campaigns helped nonprofits grow online revenue 13.5% in 2013 (source: Blackbaud 2013 Charitable Giving Report).
While it is expected that online giving will continue to climb for nonprofits, many nonprofits are still understandably skeptical about the relationship between direct mail and online giving. It's easy to say that direct mail contributes to online giving, but harder to prove.
One of Grizzard's clients in the human services vertical, currently synchronizing their marketing efforts with us, recently challenged us to clearly demonstrate the link between online giving and offline solicitations. We identified a 6 month window (October 2013 through March 2014) to ensure that both holiday and non-holiday periods were included. We then analyzed all online and white mail giving during this time period, matching it back to both renewal and acquisition solicitations (which were coordinated with their website and online messaging). Only gifts preceded by a solicitation were included. Our results: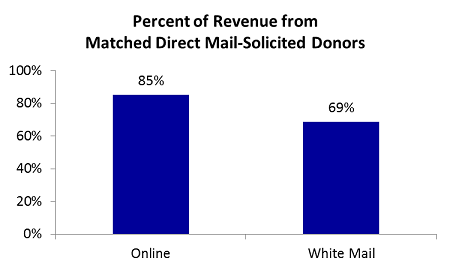 Our results show that 85% of online revenue and 69% of white mail revenue could be tracked back to donors who were solicited through direct mail prior to their donation. In this case, we were able to show this client the money -- over $250,000 -- that had been raised through their cohesive and coordinated messaging.
Is your website optimized for online giving? Are you coordinating your online and offline messaging? Let us know what you're doing to synchronize your fundraising in the comments section below.
---
Join the conversation!
blog comments powered by
---