8 Tips on Integrated Fundraising from the 2014 Bridge Conference
This article was written by guest authors, Mark Johnston, Senior Advisor, hjc and Jessica Lewis, Fundraising Innovation Consultant, hjc.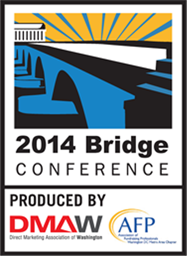 The Bridge Conference always delivers with great sessions for nonprofits and is jam packed with lots of knowledge you can take back and apply in all aspects of your fundraising work. This year's conference was no exception. Here are some of the valuable tidbits that we garnered from the sessions hjc attended last week at Bridge that you may find helpful as you tackle your integrated fundraising programs.
The need for responsive design – You need to be able to reach the donor through the channel to which they are connected, so it's important to know where they are most engaged. For example, mobile usage online overtook desktop use for the first time in 2014. If you have a limited budget, then start making sure that your forms (e.g. donation forms and sign ups) are mobile responsive.

Personalization matters – We can all benefit from fine-tuning our communication strategies so that the donor experience is personalized. No matter where people click through to you, have a plan mapped out that will make the donor journey matter on a personal level to the donor. Make sure to integrate the donor's information throughout your campaign.

Measure impact – Steve Nardizzi, the CEO of Wounded Warrior Project, at his keynote address argued that charities need to do a better job of measuring impact (for example, Wounded Warrior Project publishes their ratios on their website). He also advocated for charity ratings to be based on a wider concept of impact, the importance of the charity's mission as well as their long term plans. He asserted that organizations such as Charity Watch and Charity Navigator use criteria that are too narrow through which to rate a charity (e.g. fundraising ratios) and that a broader set of criteria needs to be applied to pass judgement on charities and measure how they are achieving their missions and mandates over the long term.

Communicate to your donors in their preferred channel – Connected to the idea of personalization, being able to identify and push communication to the donor in their favourite channel is key to improving results in the long run.

Invest in SEM – Investing in Search Engine Marketing has been proving to be successful for a number of nonprofits. If you have a limited budget, then investing in your year-end campaign may be a strategic use of limited marketing dollars. And this is all on top of your Google Grant!

Test, test, test! – Don't be afraid to test everything – from email send time to donation ask amounts to preview pane copy! This will help you better understand your list and build your integrated fundraising program as a result.

Make it easy for your donor – It pays off to closely examine and make sure that you don't have any extra steps on your donation form that will lengthen the time it takes to donate. The same goes for your peer to peer event registration forms.

Pick only what works for your organization! – Remember, everyone's needs for solutions and strategies are unique to each nonprofit's reality! Examine all of the angles of potential strategies before you leap into them.
---
Join the conversation!
blog comments powered by
---