Advocates as Donors Part 2: Activation and Conversion
This article was written by Molly Brooksbank, Senior Director of Digital Engagement at Sierra Club. Sierra Club is an IMAB Nonprofit Member.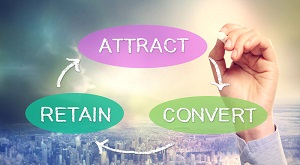 In my last article, I wrote about building your nonprofit's prospect list as the first part of a strategy to convert advocates to donors. Now, I'm tackling the next steps: activation and conversion.
Nearly every ROI discussion on this topic I've seen focuses exclusively on converting advocates to donors and leaves out retaining people as advocates. Let's face it, at least in the short term there is going to be a steep drop off between name acquisition and donor conversion -- but let's not sell advocates who aren't (yet) donors short.
Some sources you may work with provide a great stream of solid and highly engaged advocates and volunteers, but have lower conversion to donors. Some provide both. Your mix should reflect your unique goals, so build your ROI model accordingly. You may also be able to use personas or predictive models to funnel advocates of different types into different messaging tracks designed to convert them to donors.
At the highest level though, there are still simple steps you can take to pick the advocates that have the highest likelihood for conversion. Assuming you have an email welcome series in place, you'll want to map out when conversions are most likely to happen after a name is acquired. For the Sierra Club, we've found that two-thirds of the audience most likely to convert will do so within six months. Most come in after three months, but the long tail continues to return new donors for another 18 months. Asking for donations on the acknowledgement screens of your petitions is another tactic you can add to boost online fundraising 5-15% with minimal effort.
Keeping Activists Engaged
Key to both advocacy engagement and fundraising from advocates is keeping activists engaged in the reasons they first came to your organization. That means keeping campaign arcs fresh and focused, as well as introducing messaging tracks specifically focused on activation and reactivation.
There are a couple of ways to do this depending on the frequency with which you run online advocacy campaigns:
If you do a lot of advocacy, you can send only those actions that have superior engagement (e.g. performing some set level above internal benchmarks).
If you're broadly appealing actions are a bit less frequent, you might select a regular period to send the best still-relevant actions out to this group.
What's important here is relevance, to ensure people take actions. However the frequency of those actions has different implications on who you might target for fundraising.
For example, Sierra Club ran an exceptionally large paid acquisition program in 2012, which allowed us to do some good integrated testing of those names. We found that in the mail, people who had taken action 7-12 months prior were only slightly less warm than the four to six months group, which were a smidge better than zero to three months. But the distinction was not enough to not mail any of these groups. Nor did it matter in the mail how many actions they had taken, so long as they had taken at least one action after being acquired.
However, on the phone in converting to monthly donors , three to five online actions was the minimum to return results on names acquired through paid acquisition. And of course, this varied significantly by the paid source. As we've increasingly ramped up name acquisition from other sources, we're seeing even better results from organic channels -- and as long as paid sources perform, there will always be a mix.
There's also a long way to go, for Sierra Club and for many organization, in terms of balancing investment in growing the base of supporters across membership and other important forms of engagement. What kind of conversion results does your organization see? Got a great strategy for managing the balancing act between programs and fundraising? Share your thoughts in the comments section!
---
Join the conversation!
blog comments powered by
---