From the Field: 2 Integrated Marketing Case Studies
We're all clear on the fact that integrated marketing is the way to go for nonprofits -- build relationships with your supporters through various channels of communication to reinforce and further spread your message. What's not always clear is exactly how to integrate complicated messages or campaigns across multiple channels of communication.
Here are two case studies in which Avalon did just that:
League of Women Voters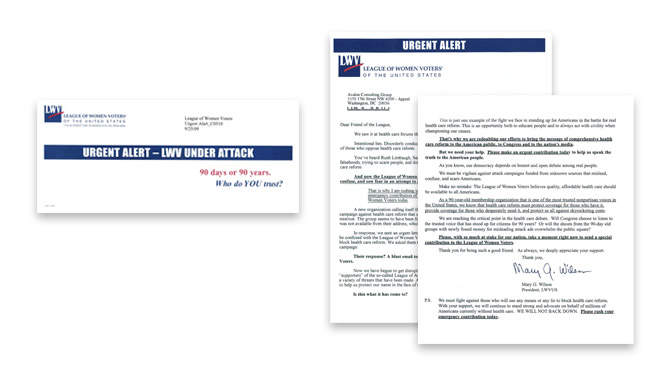 Longtime Avalon client, the League of Women Voters, presented us with a unique challenge during the nationwide health-care debate. When a sham copycat organization began launching misleading ads that distorted the League's position on health care reform, we hit back with a rapid-response, multi-channel emergency appeal that rallied donors and produced off-the-charts fundraising results.
In less than 24 hours, we transformed a phone campaign that was already in progress into an "emergency appeal" to all League donors and activists. Simultaneously, we developed an "urgent alert" direct mail package requesting emergency contributions to help fight the attacks. Finally, we launched a multiple-email campaign that rallied donors to take action by showing support for healthcare reform, exposing misinformation in the media, and making a financial contribution toward the League's efforts.
For more details, read the full case study.

Farm Sanctuary
Farm Sanctuary, an animal advocacy organization, came to Avalon late in the year with an ambitious plan to increase the number of animals it would save in the coming year. The new plan required an equally ambitious fundraising approach to fund the increased services. And, the approach had to generate new donors, while appealing to existing donors to ramp up their giving. Our campaign strategy was three-fold: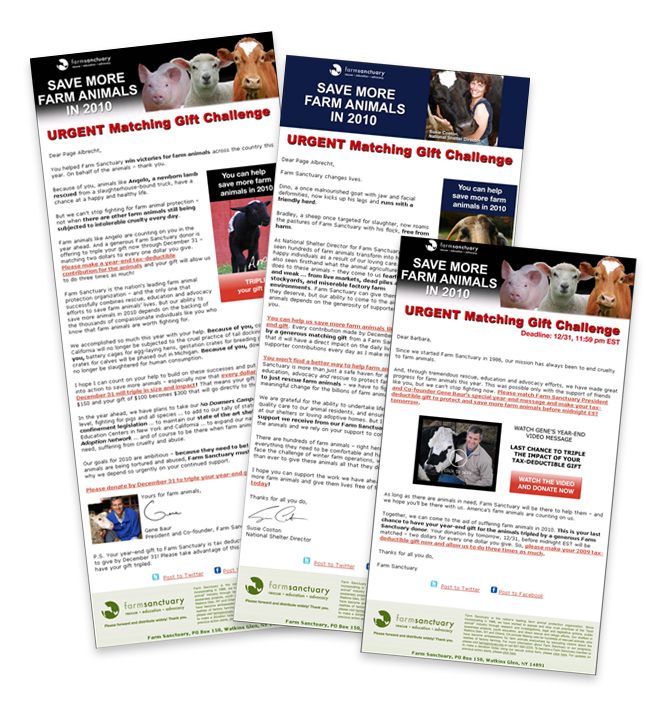 increase contact frequency
maximize multi-channel communications
emphasize urgency
We capitalized on the effectiveness of year-end appeal timing -- expanding our approach to a dove-tailed series of emails and mailings that included a matching-gift opportunity with a deadline -- with spectacular results. Prior to Avalon's involvement, year-end fundraising communications had been limited to one direct mail piece and one email. This time, we timed the direct mail appeal and a first email appeal to arrive at the same time, followed by two additional email efforts over two weeks. Farm Sanctuary was also able to secure a matching gift challenge with a year-end deadline, which we were able to leverage for added urgency.
For more details, read the full case study.
These are just a couple of quick examples of integrated marketing campaigns from the nonprofit field. What are yours?
---
Join the conversation!
blog comments powered by
---