Bridge Conference: Insight for Direct Marketers and Fundraisers
This article was co-written by guest author Nadine Gabai-Botero, founder and principal of Focus Fundraising.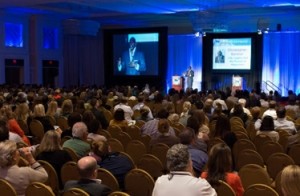 The next big idea to help take nonprofit fundraising programs to the next level is the 9th Annual Bridge to Integrated Marketing & Fundraising Conference (July 9-14) in Washington, DC. The conference is being presented by the Direct Marketing Association of Washington (DMAW) and the Association of Fundraising Professionals DC Metro Area Chapter (AFP DC). There will be pre-conference activities, including workshops and DMAW Maxi Awards, on July 9, 2014.
The 2013 conference was sold out, so the 2014 Bridge Conference will be bigger, thanks to the support of sponsors, staff and volunteers. To build on the success of last year's conference, the 2014 planning committee focused on providing cutting-edge content and exceeding the expectations of the more than 1,600 expected attendees.
The conference has been planned the following way:
Each day has a thought-provoking keynote speaker, starting with Steve Nardizzi, CEO of the Wounded Warrior Project, who will challenge attendees to think about how they manage the cost of fundraising, while doing what's best for the growth and development of the organization.
Friday morning, Dr. Janet Lapp, a psychologist, author and consultant, will talk about the impact of organizational transformation.
Finally, Craig Kielburger, co-founder of Free the Children, will show attendees how to leverage the "Power of We," an inspirational story of how he created a movement.
The Bridge Conference education committee, led by industry experts Tiffany Neill of Lautman Maska Neill and Associates, and Dennis McCarthy of Blackbaud, have curated the most comprehensive direct marketing and fundraising conference program to date. The schedule is filled with thought-provoking sessions designed to instigate new initiatives, and share best practices for the latest trends and innovations in the field.
The Bridge Conference is also intended to reconnect industry colleagues and grow professional networks. Attendees will have the opportunity to network and expand their knowledge base at daily lunches and receptions.
The direct marketing and fundraising industries are changing rapidly due to rising costs, increased accountability to donors, and the need to articulate impact in a larger and bolder way. As such, forums are designed to instigate, inspire and inform attendees.
The primary objective of the Bridge Conference is to connect the leaders in the industry with attendees to provide education that will enable attendees to improve their businesses and nonprofits.
---
Join the conversation!
blog comments powered by
---