It's Not Too Early to be a Year-End Fundraising Superhero: Part One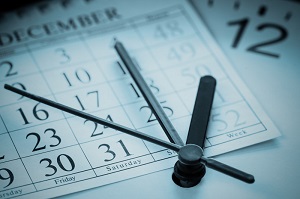 Year-end fundraising planning begins now. End-of-year fundraising can make or break your fundraising budget – it is the most critical time of the year.
A Charity Navigator survey revealed that as much as 41% of an organization's total annual revenue can be realized in the month of December, and as much as 33% of December fundraising can come from donors on the last day of the year.
What drives this desire of our donors to be so charitable? 'Tis the season of giving, a heightened sense of altruism and faith, or tax benefits? Yes, yes and YES! But, tax benefits are the number one motivator for year-end giving according to many sources and surveys. This makes December a superpower month, and the last day of the year a mega-power day!
Following are 6 Winning Strategies for an integrated approach to your year-end fundraising.
#1: Early Thanksgiving messaging or imagery can improve last quarter results.
Savvy organizations have successfully used cognitive strategies to lift year-end giving. For example, using Thanksgiving themes as early as August can yield big response and revenue returns in the last quarter of the year, when compared to non-"Thanks" theme appeals. Test this strategy to see if it's a winner for you.
But don't be a Super-Grinch by messing with Christmas. Christmas themes introduced much earlier than mid-November can negatively impact results.
#2: Append and retain.
Many organizations receive as much as 30% of their total online giving in the last three months of the year. Appending your offline donor file now with email addresses can boost retention and donor value. Having both a mail and an email address will afford you extra touch points in addition to appeals for donations. The mix adds depth to your donor relationships and enhances your online credibility/trust to give online.
Establishing online trust with your offline donors is essential for year-end giving success. Many donors give online because it's usually a last minute gift and online provides a convenient and instant way to give prior to the new year.
#3: Be multi-channel, even when you think your donors are not.
Digital marketing communications prior to year-end can covertly increase donations at the end of year. Digital campaigns specifically aimed to inform and engage, can mix up your messaging across channels. Digital is a great channel to thank donors, demonstrate respect and to share stories. Personal communications will set your organization apart from competition. A healthy mix of offline appeals and online education and engagement communications will provide added depth to your donor relationships, helping your organization to be top of mind at year-end.
#4: Be social, but know what you know.
Social media and ads have a place in supporting your year-end fundraising strategies, but do not force it to be a fundraising appeal. Less than 1% of nonprofit organizations have raised a significant amount of revenue using social media and only 35% that have raised funds, have raised less than $1,000, according to a 2012 study by Blackbaud, NTEN and Common Knowledge. This trend may be changing, but don't let the excitement of social media falsely guide you where your investment and priorities ought to be.
Your social media should support the offline and online fundraising strategies by driving traffic to your site and spreading awareness. Social links should direct traffic to rich content areas on your site. Choosing where to send donors on your site can be informed by understanding your site's analytics and where visitors tend to convert at the highest rates.
Come back next week for the remaining two critical strategies you need to know now.
---
Join the conversation!
blog comments powered by
---