Making it Personal: Notes from the DMA Nonprofit Federation NY Nonprofit Conference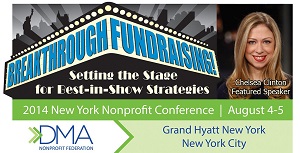 "We couldn't do this work without people like you."
Chelsea Clinton's opening keynote speech at the DMA Nonprofit Federation NY Nonprofit Conference last week addressed the nonprofit staff and partners making this industry thrive. The theme of this year's conference was "make it personal". Ms. Clinton's talk, and much of what we do as fundraisers, is all about personalization – how do we use the best mix of technology, creativity, strategies and marketing channels to positively impact this world?
Data on Our Minds
"We need to be relevant to what people care about and connect something ephemeral to something personal," said Clinton. Data-driven marketing is a buzz phrase throughout the nonprofit industry, and was also an area of focus at the two-day event. Not only are the collection and capture of data important, but also methodical analysis, and the ability to act on the story the data tells.
As the fundraising landscape has evolved to incorporate four generations of givers, we must shift our approaches to be relevant and personal to all eras of donors. What is more personal than understanding exactly how each supporter of your organization wants to hear from and interact with you? Today, the donor experience is valued more than ever, and it's imperative to provide consistent messaging across mediums. The industry has experienced a game-changing shift to one-to-one marketing, necessitating the leveraging of endless points of data including transactions, engagements, actions and social conversations.
The number of nonprofits testing modeling and leveraging co-operatives has also been on the rise for direct fundraising campaigns. Since the market offerings have increased competition, pricing for modeling and other data overlays has decreased significantly in recent years. Leveraging this type of data has proven fruitful for many nonprofits, and many more are testing the waters.
Are the Systems in Place?
Not only do we want to understand who are most likely to give to a cause, but we also must have the systems in place to capitalize on this information and take action. It can be easy to get distracted or overwhelmed by the technological opportunities or the plethora of data available. How does your organization prioritize and test the most effective and actionable initiatives?
For example, a nonprofit could identify high dollar donor prospects through modeling and wealth indexing, but does the internal staff or resources exist to reach out to and cultivate these potential major donors?
Or, some groups have had success finding "social influencers" using social media listening tools, but are they prepared to personalize and tailor subsequent messaging and campaigns to those individuals? And, what is the potential payoff for those efforts when balancing the cost and staff resources?
Collaboration is Crucial
As our world becomes more connected, our organizations must strive to work together more effectively. Especially with digital technology and data infrastructure, it's more important than ever to coordinate efforts and assess program success from a 360 degree view.
For some nonprofits, that may mean the development team coordinates with the communications team for a social media campaign. For others, it may mean consolidating your databases to understand any and all touch points your supporters, members, volunteers or donors receive to properly attribute revenue and marketing dollars.
As Chelsea Clinton stated as she closed out her address, "Not only can we come up with new and creative ways to solve a problem, but we can do so through teamwork and conversation."
---
Join the conversation!
blog comments powered by
---