Food Bank for New York City Shines With a Countdown-Themed Year-End Campaign

Posted by

Meg Mader

at Dec 23, 2014 07:03 AM CST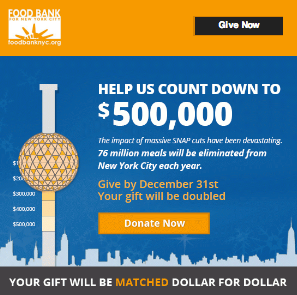 For fundraisers, year-end is our busiest and most profitable time of the year. For the city of New York, year-end brings to mind the nostalgic Times Square countdown and ball drop on New Year's Eve. Running with those two certainties, Food Bank For New York City, with help from hjc, cleverly used a shiny ball of their own in their 2013 year-end fundraising campaign, along with a countdown-style matching gift offer — and they were nominated for a 2014 IMAB Integrated Marketing Award as a result.
More than 1.4 million New Yorkers rely on Food Bank For New York City for their next meal. Food Bank procures and distributes food to a network of more than 1,000 community-based member programs and public schools citywide. Food Bank For New York City provides food for more than 63 million free meals for New Yorkers in need. Food Bank's income support services, including food stamps (also known as SNAP) and free tax assistance for low income families, put more than $100 million each year into the pockets of New Yorkers, helping them to afford food and achieve greater dignity and independence. In addition, Food Bank's nutrition education programs and services empower more than 275,000 children, teens and adults to sustain a healthy diet on a low budget.
Private Donation Inspires a Public Campaign
Inspiration for the year-end campaign came earlier in the year, when an article published in The New York Times called attention to the fact that prominent cultural organizations, like The New York Public Library, often receive large private donations, while it is much less common for organizations like Food Bank For New York City. Shortly thereafter, a matching gift of $500,000 was offered to Food Bank — and it became the focal point of the year-end campaign.
The organization enlisted the help of integrated fundraising consultants at hjc to develop a multi-channel strategy. Beside the headline, Help us count down to $500,000, and the subhead, Give by December 31st and your gift will be doubled, consultants at hjc designed an animated image of the shiny Times Square ball featuring a thermometer-style measurement "pole": the ball started at the top at $0 and gradually descended as donations increased. When the ball finally dropped, the goal of $500,000 would be achieved.
The animated ball drop image became the face of this digital matching gift campaign. The multi-channel effort included direct mail, and combined email appeals, social media posts, and Facebook display advertising, topped off with a lightbox on Food Bank's home page. The matching gift was prominently featured across channels, and the email appeals were donor centric, communicating a sense of urgency leading up to the end of the calendar year.
A City United
This campaign truly shined because of the connection New York residents have with the iconic Times Square event and hit the chord of camaraderie — a characteristic of almost all New Yorkers. While the campaign gained traction, the city really came together and responded to the urgent appeal in support of Food Bank. Most residents were aware of the cuts to federal funding that Food Bank had already faced.
The online channel provided almost half the total revenue for this matching gift campaign. Open rates on the email appeals averaged 9.6 percent — which is well above average for messages sent to the entire online supporter file. And the home page lightbox had the highest gift totals of all channels, with 574 gifts from that source alone. Overall, revenue for the month of December 2013 increased by nearly 150 percent over the previous year, and this animated and fun email appeal was a key source driving both online revenue and total growth for the month.
We can all learn something from the ways in which Food Bank successfully appealed to both new and existing donors. While the city of New York rang in a new year, this organization reaped the rewards of a truly inspirational integrated campaign.
---
Join the conversation!
blog comments powered by
---