Shriners Hospitals for Children Turn a Teddy Bear into a Brand

Posted by

Meg Mader

at Oct 15, 2014 07:03 AM CDT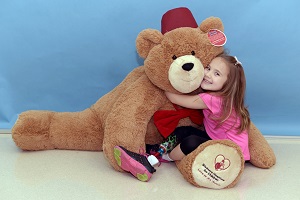 A teddy bear – we've all had one. It's the iconic toy found in the arms of small children, and often adored by people of all ages.
Shriners Hospitals for Children (SHC) turned an average teddy bear into a well-known brand ambassador, raising thousands of dollars to care for children in need – along with a nomination for the 2014 IMAB Integrated Marketing Award.
Shriners Hospitals is a network of 22 nonprofit facilities serving children regardless of their families' ability to pay. Children with orthopaedic conditions, burns, spinal cord injuries, and cleft lip and palate receive the highest quality care and treatment in a family-oriented environment. Teddy bears may be used by SHC medical staff to educate a child prior to surgery, or children may receive a bear when they enter the hospital to help the patient focus on something other than their surgery. The use of teddy bears has long embodied the organization's commitment to kid-centric education and comprehensive care, and helps the healing process for thousands of patients each year.
Last fall, SHC wanted to introduce their first brand ambassador – an icon recognizable to children and families that represents the love shown to all children receiving care at any of their locations. A teddy bear was the natural choice. On National American Teddy Bear Day, SHC launched a multi-channel campaign introducing Fezzy the teddy bear as the first Love to the rescue® brand ambassador. But before the big announcement, internal challenges had been overcome.
Teddy Bear Brings Departments Together
Like many organizations, most departments within SHC work independently, and rarely do their efforts overlap. The biggest challenge of this campaign was the effort required to bring all departments and stakeholders together to launch a successful campaign. With the help of their direct marketing agency, CDR Fundraising Group, and public relations firm First Degree, SHC staff worked together to communicate, collaborate and achieve their common goal ― make Fezzy the teddy bear a nationwide symbol of love to children and families.
The organization first engaged their audience through a Facebook vote to choose the name of this bear, appealing to online supporters of all ages. 3,000 votes later (with more than 14,900 likes and 2,500 comments), the teddy bear was named Fezzy. SHC then introduced Fezzy as their first Love to the rescue® brand ambassador through a press release and targeted emails to their network of supporters.
A Toy, a Brand, and a Symbol of Love
Fezzy quickly became popular and was featured on both the Today Show and Fox and Friends. SHC capitalized on this media presence by using targeted keywords in their search engine marketing to help people searching for Fezzy find out more about him, with the opportunity to order their very own bear.
The successful campaign included a custom landing page, drawing more than 11,200 visitors with an average time on page of more than 3 minutes. The email component also contributed to the impressive campaign performance, as the two messages saw high open rates and click through rates ― from an email file that was previously not considered active.
To date, more than 960 four-foot tall bears have been sold to raise funds for the Shriners network of facilities. This multichannel campaign not only raised thousands of dollars for children's healthcare, but Fezzy has in fact brought love to hundreds of children nationwide.
---
Join the conversation!
blog comments powered by
---