2015 Digital Strategy Outlook for Nonprofits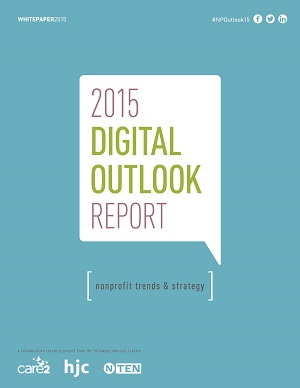 In a recent study published by Care2, hjc, and NTEN: The Nonprofit Technology Network, nearly 500 nonprofit professionals reported on their 2015 outlook for digital strategy in their organizations: from staffing to strategies to investments. This inaugural study, the 2015 Nonprofit Digital Outlook Report, is the first in a series of annual studies planned to track key trends in the years ahead.
It's all about integration
A major finding of the report revealed that within nonprofits, regardless of size, budget, and capacity for digital strategy, there is a growing trend towards integration. Whether it's integration of staff, content, or tools, nonprofits are trying to take the next step beyond engagement to conversion. Digital is now, more than ever, regarded as an inherent component of effective organizations.
An inconsistent priority
Interestingly, while digital is a growing priority in nonprofits, findings reveal that this growth is not consistent across organizations in terms of staffing, tools, and strategies. 56% of survey respondents reported that they do not have any staff dedicated to digital strategy. Size plays a role in determining this to some extent, where 66% of respondents from organizations with 76+ full time staff noted that they have a dedicated team for this.
Four elements to improve digital interaction
While budget and capacity constraints continue to play a key factor for all nonprofits when planning their digital strategies, the report highlights four elements to improve digital interaction with prospective donors and supporters where budget is not a barrier: right audience, right plan, right content, and right tools.
"We know that staff time is valuable, but we've already budgeted for it. Many of the recommendations highlighted in this report require staff time to strategize, make changes, and optimize online processes or experience. They do not, necessarily, require new funds or larger budgets for new tools. It's a matter of being strategic, not buying more technology," said Amy Sample Ward, CEO of NTEN.
A shift to visual marketing
The findings also revealed that nonprofits are prioritizing visuals as a key component of their marketing strategies. Excerpted from the report: "We can see that the three tactics with the most increased marketing focus in 2015 will be video, images, and infographics. This shift towards heavily visual marketing media and strategy has been growing exponentially, and 2015 appears to be a continuation of this trend."
A multi-channel focus
The report also includes three case studies from nonprofits: Alzheimer Society of Ontario, Covenant House International, and Ontario SPCA. Across the board, nonprofit leaders are focused on building the right infrastructure and resources to enable multi-channel marketing. They are hyper-focused on the constituent experience, and converting that experience into a viable marketing strategy for donor acquisition.
"It's all about people in any industry. Whether we're talking about Oracle, IBM, or a charitable organization, how you deploy your human resources is the key to success. This exciting new piece of research digs a bit deeper to uncover the evidence, and subsequent guidance for, any nonprofit with rationed resources that wants to be more successful in digital marketing and fundraising," said Mike Johnston, President & Founder of hjc.
Download this free report, which also includes seven steps for nonprofit digital strategy success in 2015.
To learn more about the organizations that developed this report, visit their websites:
• Care2: www.care2.com
• hjc: www.hjcnewmedia.com
• NTEN: www.nten.org
Interested in learning more? Sign up for the free webinar that will be hosted by NTEN, and will feature report authors; February 19 at 11am PT.
Also, if you're registered to attend the 2015 Nonprofit Technology Conference in Austin, Texas, be sure to join the session on Wednesday, March 4 at 1:30pm.


---
Join the conversation!
blog comments powered by
---