Identifying the Donors You Need to Retain
In past posts, I've stressed the importance of knowing who your current audience is, and better understanding your constituents' demographics and psychographics. Now, let's talk about identifying the donors you need to retain.
Whether an organization is small or vast, for profit or not for profit, the development of constituent segmentation can be tricky. And, while segmentation is still often considered to be an important element of any plan, many still do not give segmentation the appropriate priority when it comes time to implement a campaign. The reality is that segmentation is the single most important factor in helping an organization achieve both its short and long-term goals—and with good reason: Donors respond to communications that appeal to their unique preferences.
But goals can embody multiple objectives, of course—and these objectives are often overshadowed by our own biases when it comes to developing the segmentation that will drive the fundraising. As marketers, we need to step back and reconsider some "dated" methods—those in which we analyze and develop segmentation, but allow for a more "natural" division of these audiences, targeting constituents more precisely based on our intended goals. For example, if retaining your most valuable donors is a real objective for your organization—and it should be!—then your segmentation strategy needs to fully embrace the donor attributes that define value for you.
This seems amazingly obvious, so why isn't it easy?
Well, more common than not, major donor segmentation is determined by either the marketer's bias, past experiences, or, even worse, by budget. Recently, I was asked whether or not a major donor segment that is currently defined as "those who have given $1,000 in the past year" should be changed to "those who have given $1,500 in the past year." You see, the inquiring individual had received a piece of mail from another organization and noticed that their ask strategy for a similar offer started at $1,500. The answer to the question sits in unperformed analysis that would identify the risks and potential gains of retention and upgrading.
The Donor Value
Backing up to our objective of retaining the most valuable donors, let's examine value. If I offered you one of the three following donors, who would you want as your major donor:
A) Sally, who gives $125 per month for 12 months
B) Bob, who gives $1,500 every December
C) Jeffrey, who gives $500 to each matching gift campaign, three times per year
I want all of them.
What's identifiable as a segment for Sally, Bob, and Jeffrey is that they all have the same cumulative value of $1,500 per year. What's not so common and varies by organization is how we would select these donors—and, therefore, how we would treat them—would vary. That's what segmentation is all about: speaking to a donor's particular needs, expectations, and motivations.
Common segmentation practices may select:
Single highest gift of $1,500 +
Most recent gift of $1,500 +
Any gift of $1,500 +
All of the above segmentation criteria would select Bob, but none of them would select Sally or Jeffrey—thus, 66 percent of the segment's revenue may be at risk due to failure to select, acknowledge, or communicate to the donor most appropriately.
There may be additional longer-term impacts and missed opportunities to communicate with younger donors or create more sustainable revenue streams when using common segmentation practices:
Most of the industry analyzes results using recency, frequency, and amount (RFA). RFA segment performance almost always shows that there is a correlation between frequency and likelihood to respond (retain). Higher frequency makes an argument that Sally and Jeffrey may be more valuable than Bob due to the fact that they represent a more predictable and sustainable donor segment longer term.
Giving more frequently can also be linked to other donor attributes, such as age. Younger donors tend to interact more frequently with organizations ("Inspiring the Next Generation Workforce, the 2014 Millennial Impact Report") and are likely to remain loyal to fewer organizations when compared to older generations, such as boomers. Many organizations are trying to engage younger donors; however, common segmentation strategies limit the number of interactions and therefore the number of opportunities for younger generations to give.
So, don't limit yourself by following conventional "wisdom"— identifying valuable donors can be as simple as selecting segments using cumulative value for a period of time.
Here's one final tip that can help make segmentation less confusing: When evaluating who your organization's most valuable donors are, it can be helpful to use the pareto principle when developing analysis and evaluating the results. Determine which donors are contributing 80 percent of your total current year revenue and have the highest cumulative (value per donor). The minimum cumulative value of the donors that fall within the 80 percent total revenue can be your line in the sand, separating your regular donor program donors versus a middle and major donor program.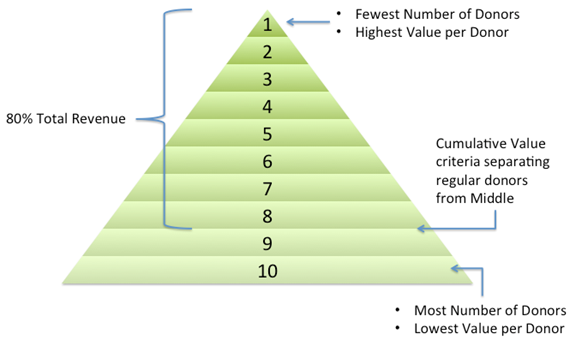 Remember, the most valuable audience is one you already have a connection with. No one can afford to target everyone. Smarter segmentation adds to the bottom line.
---
Join the conversation!
blog comments powered by
---