Spotlight on 2012 Integrated Marketing Award Winner: Ontario SPCA
In August 2012, the Integrated Marketing Advisory Board announced three award winners for our first-ever Integrated Marketing Awards. The Ontario SPCA, one of the largest animal welfare organizations in Canada, won in the category of The Organization, demonstrating how an effort across the organization aligned strategy, structure, culture, and skills to impact the organization's ability to integrate its marketing efforts. Following is the program for which the Ontario SPCA won the award:
The Challenges
Before 2012, the Ontario SPCA faced several challenges:
Different brands and sponsors for community branches across Ontario
Different event dates for each community event
Different prize/incentive programs
No customer service model
Little province-wide marketing opportunities for 2012
The Campaign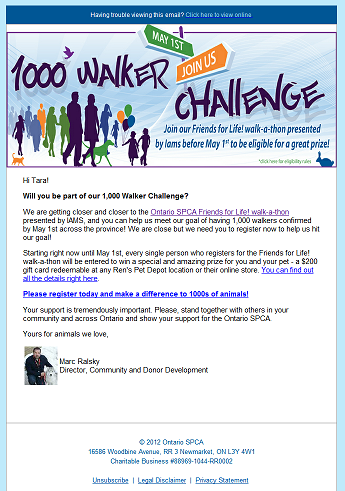 In 2012, the Ontario SPCA developed an integrated marketing strategy to support their province-wide Friends for Life! walk-a-thon event. The provincial office worked with community branches to build a singular event brand and communicate to participants, donors and prospects across all media channels in Ontario. Marketing strategy included email, online advertising and social media combined with the traditional channels of telephone, postal mail, radio, television and print to appeal to diverse audience across Ontario.
Audiences were driven to the newly redesigned event website. Effectively using the event website, updated event logo and a comprehensive integrated marketing strategy across all channels helped the Ontario SPCA to increase donations and recruit and engage participants.
When registration for the spring 2012 walks plateaued at around 675 participants, the Ontario SPCA saw this as an opportunity to run the 1,000 Walker Challenge, a mini-campaign aimed at recruiting a thousand participants for the spring walk events.
This mini-campaign included:
Button on event website homepage
Two-part email series to promote the mini-campaign with call to action: Please register today and make a difference to thousands of animals!
Promotion through social media: Draw for gift card at a pet store as incentive to register
The email series was sent on April 17 and April 28, and the Ontario SPCA reached their mini-campaign goal of 1,000 participants by May 1. This unique mini-campaign was successful because of the integrated elements combined with a fun incentive that was appealing for both people and their pets. The Ontario SPCA plans to include this challenge in their integrated marketing strategy for the 2013 event.
The Results
Funds raised online as of October 2012: $259,269 (Event fundraising goal will be totaled following the fall 2012 events.)
Total Participants Increase during TV and radio campaign April-May 2012: 287
Total Donation Increase during TV and radio campaign April-May 2012: $54,032
1,000 Walker Challenge mini-campaign recruited an additional 325 participants in two weeks, helping the Ontario SPCA reach their goal of a thousand walkers for the spring events
---
Join the conversation!
blog comments powered by
---