It's Not Too Early to be a Year-End Fundraising Superhero: Part Two
As I stressed in last week's blog post, year-end fundraising planning begins now. End-of-year fundraising can make or break your fundraising budget. Here are the remaining two critical strategies you need to know now.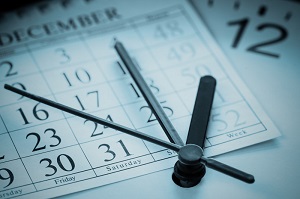 #5: It's December and the superpower strategy is high frequency.
Sending a lot of emails makes many of us very uncomfortable, but try not to let this feeling dictate strategy. Research shows that in the month of December there was an average of seven email deployments per organization (source: M + R 2014 Benchmarks).
At Grizzard, we did some research of our own. We gave online gifts to 70 different organizations in the month of October and monitored how and when organizations campaigned online and offline. We found that the average number of emails sent in the month of December was eight (8.42 to be precise), three of which were sent in the last week of the month. Several organizations sent as many as 15 emails in the month of December and as many as five emails the last week of the year. One organization sent seven emails in the last week of the year. Organizations sending the most emails tended to be larger and very digitally mature.
This year Christmas is on a Thursday and New Year's Eve is on a Wednesday. At a minimum, try to be in inboxes on a weekend day, Monday morning and Wednesday early morning. Most online giving will happen between 10 a.m. and 6 p.m. on Wednesday, Dec. 31, within each time zone.
Based upon timing of the 2014 holidays, Google analytics and email behavior reporting, I am recommending four email deployments between 12/27 and 12/31. That said, expect an up-tick in unsubscribe rates of approximately 1 to 3%.
#6: Finally, pretend to be the real superhero, the donor.
The last week of the year is the most important time for online marketing and fundraising. Given that the last day of the year can bring in as much as 33% of your total December online revenue, making the online giving experience as easy as possible can dramatically increase your results.
Online is a convenient channel for donors giving their last minute gift. The last thing donors want is to have a donation experience that is difficult and frustrating.
Integrated marketing tips for making giving easy for donors:
Make sure it's easy to find your site:
Optimize your PPC campaigns. Pause or lower keyword bids on poor performing AdWord campaigns leading up to mid-December and amp up your spends on best performers. Make it easy for donors to get to your site. Stay ahead of your competition with effectively built out campaigns that contain relevant keywords and be sure to allocate a healthy PPC budget for key dates the last two weeks of December. This will also create opportunity for increase in ad rank.
Be sure your landing pages and forms are indexed.
Test PPC on Bing in addition to Google. On Bing, there is less competition and it has a growing user base. Depending on your donor profile, you may be surprised with your Bing results.
Ensure that the giving experience is pleasant and easy
Become the user. Force yourself to experience what it's like from the donor's perspective when giving an online gift. Note the number of clicks it takes from email to site, from site to donation form and the number of fields and amount of time it takes to make a successful donation. Ask yourself how the process could be made simpler.
Next, ask someone else from another department or a friend to do the same thing. Get their feedback.
Fix any broken links.
Unsung Superhero: Don't discount your cultivation program from January through November.
Beauty and the Beast would never be a great story if they were separated. Likewise, a successful year-end campaign cannot happen without a robust year-round campaign plan. Year-end campaigning can sometimes be erroneously attributed to December campaigns only – not true. The year-round and year-end campaigns work together to keep your organization top of mind and tell your story. Continual multi-channel communications conveying mission, need and effective use of donors' funds help to keep your organization relevant. End-of-year campaigns provide the reminding vehicle for convenient giving.
Good luck!
---
Join the conversation!
blog comments powered by
---