---
Food Bank for New York City Shines With a Countdown-Themed Year-End Campaign
Posted by
Meg Mader
at Dec 23, 2014 07:03 AM CST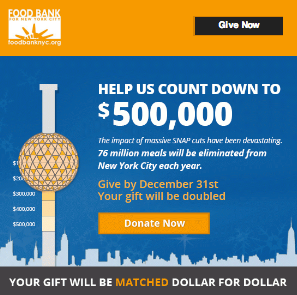 For fundraisers, year-end is our busiest and most profitable time of the year. For the city of New York, year-end brings to mind the nostalgic Times Square countdown and ball drop on New Year's Eve. Running with those two certainties, Food Bank For New York City, with help from hjc, cleverly used a shiny ball of their own in their 2013 year-end fundraising campaign, along with a countdown-style matching gift offer — and they were nominated for a 2014 IMAB Integrated Marketing Award as a result.
More than 1.4 million New Yorkers rely on Food Bank For New York City for their next meal. Food Bank procures and distributes food to a network of more than 1,000 community-based member programs and public schools citywide. Food Bank For New York City provides food for more than 63 million free meals for New Yorkers in need. Food Bank's income support services, including food stamps (also known as SNAP) and free tax assistance for low income families, put more than $100 million each year into the pockets of New Yorkers, helping them to afford food and achieve greater dignity and independence. In addition, Food Bank's nutrition education programs and services empower more than 275,000 children, teens and adults to sustain a healthy diet on a low budget.
Private Donation Inspires a Public Campaign
Inspiration for the year-end campaign came earlier in the year, when an article published in The New York Times called attention to the fact that prominent cultural organizations, like The New York Public Library, often receive large private donations, while it is much less common for organizations like Food Bank For New York City. Shortly thereafter, a matching gift of $500,000 was offered to Food Bank — and it became the focal point of the year-end campaign.
The organization enlisted the help of integrated fundraising consultants at hjc to develop a multi-channel strategy. Beside the headline, Help us count down to $500,000, and the subhead, Give by December 31st and your gift will be doubled, consultants at hjc designed an animated image of the shiny Times Square ball featuring a thermometer-style measurement "pole": the ball started at the top at $0 and gradually descended as donations increased. When the ball finally dropped, the goal of $500,000 would be achieved.
The animated ball drop image became the face of this digital matching gift campaign. The multi-channel effort included direct mail, and combined email appeals, social media posts, and Facebook display advertising, topped off with a lightbox on Food Bank's home page. The matching gift was prominently featured across channels, and the email appeals were donor centric, communicating a sense of urgency leading up to the end of the calendar year.
A City United
This campaign truly shined because of the connection New York residents have with the iconic Times Square event and hit the chord of camaraderie — a characteristic of almost all New Yorkers. While the campaign gained traction, the city really came together and responded to the urgent appeal in support of Food Bank. Most residents were aware of the cuts to federal funding that Food Bank had already faced.
The online channel provided almost half the total revenue for this matching gift campaign. Open rates on the email appeals averaged 9.6 percent — which is well above average for messages sent to the entire online supporter file. And the home page lightbox had the highest gift totals of all channels, with 574 gifts from that source alone. Overall, revenue for the month of December 2013 increased by nearly 150 percent over the previous year, and this animated and fun email appeal was a key source driving both online revenue and total growth for the month.
We can all learn something from the ways in which Food Bank successfully appealed to both new and existing donors. While the city of New York rang in a new year, this organization reaped the rewards of a truly inspirational integrated campaign.
Share, Like and Post
|
Article Link
|
Comment
---
Planning for Planned Giving: A Nonprofit Success Story
Posted by
Meg Mader
at Dec 18, 2014 07:02 AM CST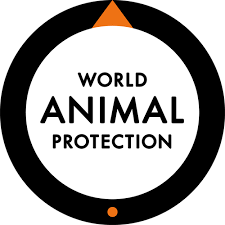 Do you know many charities with a thriving planned giving program? Probably not. But after reading the following story about World Animal Protection Canada (formerly known as WSPA Canada), you'll be inspired by the organization's integrated approach (with help from hjc) to a planned giving campaign — and understand why they received a nomination for the 2014 Integrated Marketing Advisory Board (IMAB) Awards.
Confronting animal cruelty around the world, World Animal Protection strives to combat the world's most intense and large-scale animal welfare issues through education, commitment to animal-friendly practices, and influencing key decision makers to put animals on the global agenda.
World Animal Protection had never promoted planned giving online — it was well-established only as an offline way of raising funds. But the organization wanted to explore a digital component to promote and grow the planned giving program.
Challenge Accepted
With every new venture comes at least one challenge — for World Animal Protection, the challenge was internal. Since planned giving was long embedded as an offline, often face-to-face means of fundraising, many people within the organization needed convincing in order to believe that online could be a successful channel to cultivate new planned giving donors.
After the decision was made to launch an integrated planned giving campaign, World Animal Protection began with a six-question online survey, the goal of which was to identify major gift and planned giving prospects — and hopefully identify donors with confirmed legacy gifts. Supporters were asked their age range, marital status, and whether or not they have children, along with a few questions about their involvement with World Animal Protection. The responses were then scored into categories based of strength of the lead (good, very good, etc.).
While the survey was only conducted online, World Animal Protection took a truly integrated approach with the survey results. They cultivated the newly confirmed legacy donors through a combination of personal phone calls, letters, emails, informational events, and even face-to-face visits.
Leaving a Legacy
Sent to more than 66,000 supporters, the survey received 2,381 responses (a 4.3 percent response rate). Of the completed surveys, 186 supporters indicated they had already included World Animal Protection in their will (unbeknownst to World Animal Protection), 23.9 percent were identified as planned giving prospects, and the remaining 61.2 percent indicated they were interested in making a significant gift.
The survey proved successful in a number of ways. It helped break down silos within the organization, proving to all departments that even older generations can be reached through digital channels. And those donors are "online savvy" and active through email and social media. Departments also worked together after the survey, taking a multi-channel approach to reach out to the planned giving prospects and continue to promote the program. World Animal Protection staff collaborated across departments to shepherd the new prospects with phone calls, letters, emails, events, and face-to-face visits.
Best of all, World Animal Protection not only learned they had a new group of confirmed legacy donors, but they also identified a previously unknown segment of planned giving prospects — totaling more than 85 percent of the survey responses. As fundraisers, we can all be inspired by this award-worthy campaign's success in crossing the bridge from offline to online fundraising. And World Animal Protection can continue their innovative integration to steward the new prospects into confirmed legacy donors and truly grow their planned giving program.
Share, Like and Post
|
Article Link
|
Comment
---
No Kid Hungry Wins Blackbaud 2014 Impact Award for #SaveSummer Integrated Marketing Campaign
This article was written by guest author Wendy Marinaccio Husman, Senior Account Executive at Donordigital, the online fundraising, marketing and advertising company and a member of the IMAB.

Recently, No Kid Hungry won a Blackbaud 2014 Impact Award for nonprofits for Best Multi-Channel Marketing for their Summer Meals campaign — which Mal Warwick | Donordigital had the honor to work on. No Kid Hungry's campaign is a great example of success thanks to integrated fundraising, marketing and advocacy, and our agency was well prepared to help due to our expertise across marketing channels.
The Summer Meals Integrated Marketing Campaign
No Kid Hungry's annual Summer Meals campaign spreads awareness about childhood hunger, helps connect kids with food, and raises needed funds during summer months when kids are more likely to be hungry.
No Kid Hungry launched its integrated campaign to #SaveSummer for kids in mid-May, with the goal of raising $100,000 by July 30, 2014. The campaign included:
a series of 13 email messages
one direct mail package
a mobile phone texting campaign
numerous social media posts
a coordinated web presence
a lightbox asking single gift donors to "make it monthly"
a video
No Kid Hungry took advantage of several opportunities to make this program a huge success. The Arby's Foundation has been a crucial partner in No Kid Hungry's work over the years and provided matching funds up to $100,000 to encourage increased donations. In addition, national spokesperson Jeff Bridges has helped No Kid Hungry raise funds, build relationships, and increase awareness of the need for, and the existence of, free summer meals for children.
The Results
The fundraising aspect of the campaign was a huge success. This year, the organization surpassed its matching gift goal by over 50% and acquired over 800 new donors. The monthly donor upsell lightbox was one of Mal Warwick | Donordigital's proudest accomplishments, helping to enroll more than 150 new monthly donors as members of "The Hunger Core."
The marketing and advocacy aspects of the campaign were a success, too. Many families don't know that free meals are available to kids and teens at thousands of sites nationwide — in fact, only 3 million children are participating in these programs.
To help increase this number, No Kid Hungry created an SMS program where people can text FOOD to 877-877 to find summer meals sites near them. They also created an Action Center where people are directed to a variety of ways they can take action based on their zip code, both online and in-person, to promote awareness of and support for summer meals. Specific calls to get involved were promoted through email and social media.
Thanks to these efforts, over 40,000 letters were sent to Congress asking members to visit a summer meals site, and almost 50,000 individuals used the mobile texting service to locate a summer meals site (a 100% increase over prior year).
Share, Like and Post
|
Article Link
|
Comment
---
Integrated Marketing Channels Help Drive Monthly Giving Results
Why do I care about integrated marketing? And why do I think that nonprofits should take it seriously? Well, round these parts we are pretty obsessed with monthly giving. And who wouldn't be, given how very valuable these donors are over their lifetime of support?
So, we need to get our monthly asks featured in all our donors' channels of choice.
Here are a couple of fabulous monthly donor campaigns launched in-house recently by two of my all-time favourite organizations:
Ecojustice
Last spring, Ecojustice (think David to industry and government's Goliath) launched a drive for new monthly supporters. "There's a hero in YOU," Ecojustice told its supporters. "Join our lawyers and monthly donors and become a Defender today."
Ecojustice featured one of their staff lawyers, who frequently finds himself in court, standing up to big oil and gas companies with their vast legal teams and bank accounts. Ecojustice lawyers know first-hand how long it can take for a lawsuit to wind its way through the court system. And how instrumental committed, monthly gifts are in funding those cases.
They also featured other monthly donors and clients, who bore witness to the impact and importance of Ecojustice's work, and the compelling reasons to become a monthly supporter.
The monthly giving drive had all the ingredients of success:
a great case for support
an existing pool of passionate activists and supporters
a very specific reason why monthly giving is so vital
a personable and passionate spokesperson and lead donor
a deadline
a target number of new supporters
A kind donor also agreed to match all new monthly donations until the end of the year.
Through a well-executed combination of email, telephone, and online video, Ecojustice smashed through all its targets, recruiting 150 new monthly donors.
The Tyee Builder Campaign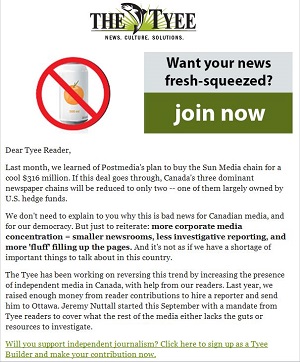 Another personal favourite is the Tyee Builder campaign. Swimming upstream against media consolidation, The Tyee is an independent online magazine that publishes news, reviews and commentary not typically covered by Canada's mainstream media.
As you can imagine, along with such independence comes smart, self-imposed restrictions on advertising and corporate support. So The Tyee has long turned to its readership to keep it going. Hence The Tyee "Builders" -- a group of dedicated readers who donate monthly to keep their favourite news source strong and free.
The Tyee launched their drive for Tyee Builders online, of course, carried in their own publication and by email to readers. But they didn't stop at asking their readers for support: "Don't worry. This isn't another ask for money. This time, we want your friends. And family. And colleagues."
At half-way to their $100,000 goal, Tyee fundraisers launched the friend-get-friend portion of their campaign. Equipped with their own personal URL (PURL), readers were invited to convince their friends to join, with the incentive that for every new Builder recruited through the reader's PURL, the reader would be entered to win a fabulous weekend getaway to Tofino on B.C.'s wild west coast.
Today, there are more than 900 monthly Tyee Builders, increasing The Tyee's freelance reporting budget by close to $120,000 and fully funding a Tyee national reporter in Ottawa. As they say, that's no small fry.
You can check out these two fabulous organizations at www.ecojustice.ca and www.thetyee.ca. Who knows? Maybe you'll be inspired to create your own integrated, monthly giving campaign!
Share, Like and Post
|
Article Link
|
Comment
---
The Future of Direct Response for Nonprofits: Truly Integrated Impact Marketing

To create truly integrated impact marketing we need omnichannel marketing.
Omnichannel marketing is exactly what the name suggests, touching prospects and supporters across every relevant channel and taking advantage of the multiple touch points available: television, print, radio, telephone, email, websites, digital and more. Ironically, though, omnichannel marketing is nothing like the term suggests. It is not the limitless outbound flow of messaging attempting to influence behavior without regard for the recipient. Omnichannel marketing places customers and their channel preferences uppermost. It is donor-centric marketing.
Understanding preferences is vital
Direct marketing today cannot be vanilla; that is, no one tactic will resonate equally with everyone. Supporters/donors do not operate in a single-channel world, and what worked in the past will not necessarily work today -- or be cost-effective. What's more, the channel that carried the convincing message likely will not be the same one employed for the response. An email campaign may convince someone to donate, but the contribution may take the form of a check in the mail or look like an "organic" gift from homepage traffic. Conversely, a direct mail package can just as easily evoke a credit card gift via a phone call or the website as a check in the return envelope.
What's important is a cohesive and coordinated approach employing the right channels for the right donors/supporters.
A 360 degree view
The challenge for most organizations seeking to move through the progression from single channel to multichannel to omnichannel marketing is gaining a true 360° view of supporters. Unlike the corporate world, nonprofits typically have at least two -- if not more -- databases. The integration of donor datasets is difficult because information resides in different places. There are distinct data silos -- sometimes even within the same channel.
Integrating information captured via online channels is far less formidable than combining offline and online data. There is no easy way to recognize that the Mary Smith who placed a phone call to an association's call center with a renewal question is the same Mary Smith who likes that organization on Facebook and/or is an email subscriber. But connecting those dots is crucial for truly integrated impact marketing and effective omnichannel fundraising.
Nonprofits need to understand all the ways that people consume media and stop thinking in terms of "digital" or "traditional," and tailor strategies across channels. We need to streamline workflows and develop comprehensive sets of standard operating procedures to ensure we're collecting the data needed at the quality level required to truly and effectively leverage the power of all that "big data."
Building profiles
For most nonprofits, the best way is to build profiles. Rather than knowing donors person by person, which can be overwhelming, they should seek to identify groups of people who "look" and "respond" in similar ways. That is, they develop personas and market to them. This approach allows the use of testing strategies that can yield truly significant results.
The big challenge is organizing data in a unified way that enables correlation of outbound contacts and inbound replies across channels, campaigns and devices. Without accurately mapped information, organizations cannot weight each campaign's relative impact and forecast the combination and frequency of contacts most likely to increase the desired KPIs (whether that's response rates, average gifts, monthly sustainers, etc.).
Remember:
Never assume that there are different audiences for every channel.

Donors/customers will interact with organizations in any way they choose.
Have consistent messaging, offers and calls for action regardless of the channel. People must encounter the same organization on every channel. You only have one brand.
Define your goals. You must have strategic, measurable and trackable fundraising goals up front. "Increase engagement" is too vague. SMART goals offer accountability and progress assessment:
Specific
Measureable
Achievable
Relevant
Time-bound
Build a source code logic that crosses databases and enables tracking. The first step can be as simple as developing a custom field in each database to capture a unique identifier. Then, invest in tracking mechanisms that allow you to connect the dots across channels and gain insights on the optimal communication channel(s).
Make interactions as easy as possible on every channel.
Omnichannel marketing is not about blasting the airwaves with a message in the hopes of possibly engaging a donor. It's a data-driven technique that prompts smart decision making about resource allocation and message positioning and timing and creates truly integrated and effective impact marketing.
Share, Like and Post
|
Article Link
|
Comment
---