---
Converting Online Supporters to Donors
Posted by at May 07, 2014 07:04 AM CDT

Online communities represent a huge untapped pool of potential donors. And, with the increasing cost of acquiring new donors through traditional channels, more and more nonprofits are looking at their online supporters as a means of acquiring new donors. But, there are some pitfalls to avoid and key actions to be taken which will increase the probability of success.
The first step would be to identify the target audience you want to reach online and create the necessary social networking opportunities. The key in this step is to make it simple and easy – one issue linked to one action. There are number of ways to acquire online supporters including petitions, pledges, surveys and registration for information, newsletters or events. You can create these opportunities internally or use 3rd party vendors.
From the start, you should segment your online supporters as much as possible – this will ensure that you are able to determine which online communities represent best opportunities for conversion. Also, it's always a good idea to make sure that you have a box to check if over 18 – a lot of online petitioners are younger and likely not your target for fundraising. Based on our experience, if done right your odds are good this approach will work for you, but you won't know what works until you try it! And above all, test, test, test.
Capturing the right information
The single most common error we see is that organizations do not capture enough information to be able to communicate with their online supporters offline. You should collect more than email address and postal code. We highly recommend you get street address (mainly so you can use a match service to find their phone number) and include a comprehensive opt-in clause. Ideally, you would also capture phone number.
One recent highly successful online conversion campaign Stratcom conducted was with LeadNow. With a list of 20,000 online acquired supporters, LeadNow generated over 800 new donors of which over one-third were monthly givers at a net cost of only $14.36 per new donor.
And remember, just because someone came to your organization online does not mean that is the only way you should communicate with them. Supporters want to be communicated with in a multi-channel approach, so you should reach out to them online and offline (phone and direct mail). And the reality is your best online giving tool is the phone.
So while many organizations think the way to raise money from online donors and contacts is to email them (which you should do of course), the much more significant fundraising opportunity, including obtaining monthly donors, is going to come from phoning them.
If you are worried that asking for too much information will decrease participation in your campaign (which is a risk), then develop a 2 screen landing page model that captures basic information on the first page and more detailed but optional information on a second screen.
Steward/engage supporters
To move from participant to donor you need to build a relationship before doing any fundraising. The relationship should start with a thank you. We generally recommend an e-welcome series of 4-8 communications that include more information about your organization, newsletters, any direct mail communications you send to your donors, subsequent calls to action and ultimately a soft donor ask.
How to convert
As mentioned above, there is a synergy between online and the phone, and that's where most of your revenue will come. So after engaging the supporter for 4 to 8 weeks, you should phone them to become donors and even monthly donors!
How to maximize the response rate
There are a number of factors which will influence the response rate including:
How recently an online supporter took action
How active was the supporter's action (i.e. petition vs. registration)
Did you steward/engage the supporter
Urgency of appeal
Strength of call to action
How involved is the supporter with the organization (how many actions have they taken)
Using the appropriate strategy and method for the solicitation
What results can be expected
At Stratcom, we have conducted many telefundraising campaigns to convert online supporters to donors, and the results have varied considerably depending on campaign, although usually very successful. Ensuring that the factors that influence response rates (as outlined above) have been incorporated into your strategy is key to achieving successful results.
The following is a sampling of 20 different campaigns and their response rates.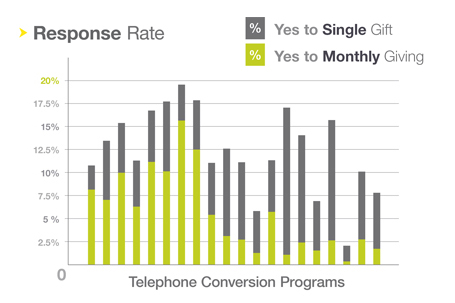 Other metrics that should be analyzed (as with all fundraising campaigns) include:
Months to break even
ROI
Net cost to acquire a new donor
Long term value
Retention
Keys to successful conversion
Find passionate online supporters
Capture information so you can communicate offline
Engage and steward – use a multichannel approach
Segment
Phone to Convert
Test and take risks
Share, Like and Post
|
Article Link
|
Comment
---
Bridge Conference: Insight for Direct Marketers and Fundraisers
This article was co-written by guest author Nadine Gabai-Botero, founder and principal of Focus Fundraising.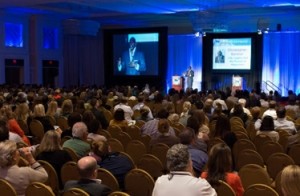 The next big idea to help take nonprofit fundraising programs to the next level is the 9th Annual Bridge to Integrated Marketing & Fundraising Conference (July 9-14) in Washington, DC. The conference is being presented by the Direct Marketing Association of Washington (DMAW) and the Association of Fundraising Professionals DC Metro Area Chapter (AFP DC). There will be pre-conference activities, including workshops and DMAW Maxi Awards, on July 9, 2014.
The 2013 conference was sold out, so the 2014 Bridge Conference will be bigger, thanks to the support of sponsors, staff and volunteers. To build on the success of last year's conference, the 2014 planning committee focused on providing cutting-edge content and exceeding the expectations of the more than 1,600 expected attendees.
The conference has been planned the following way:
Each day has a thought-provoking keynote speaker, starting with Steve Nardizzi, CEO of the Wounded Warrior Project, who will challenge attendees to think about how they manage the cost of fundraising, while doing what's best for the growth and development of the organization.
Friday morning, Dr. Janet Lapp, a psychologist, author and consultant, will talk about the impact of organizational transformation.
Finally, Craig Kielburger, co-founder of Free the Children, will show attendees how to leverage the "Power of We," an inspirational story of how he created a movement.
The Bridge Conference education committee, led by industry experts Tiffany Neill of Lautman Maska Neill and Associates, and Dennis McCarthy of Blackbaud, have curated the most comprehensive direct marketing and fundraising conference program to date. The schedule is filled with thought-provoking sessions designed to instigate new initiatives, and share best practices for the latest trends and innovations in the field.
The Bridge Conference is also intended to reconnect industry colleagues and grow professional networks. Attendees will have the opportunity to network and expand their knowledge base at daily lunches and receptions.
The direct marketing and fundraising industries are changing rapidly due to rising costs, increased accountability to donors, and the need to articulate impact in a larger and bolder way. As such, forums are designed to instigate, inspire and inform attendees.
The primary objective of the Bridge Conference is to connect the leaders in the industry with attendees to provide education that will enable attendees to improve their businesses and nonprofits.
Share, Like and Post
|
Article Link
|
Comment
---
The Good, The Bad, and The Ugly: What We Learned About Integrated Fundraising by Donating to Sixteen Major U.S. Nonprofit Organizations
This article was written by guest author Peter Schoewe, vice president and director of analytics at Mal Warwick | Donordigital. He brings over 15 years of experience in direct response fundraising with a focus on creating strategy built upon a foundation of strong analysis.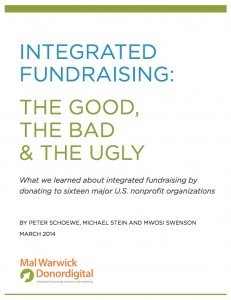 At Mal Warwick | Donordigital, we implement direct response programs that focus on integrated donor solicitation, cultivation and stewardship across multiple channels. In an effort to learn more about what others are doing, we studied sixteen major nonprofit organizations to give us a snapshot of what some of today's leading charities are doing.
For six months in 2013, we tracked all interactions with these organizations through direct mail, online and telephone. Our goal was to observe how some of America's most notable charities are integrating their donor communications across multiple channels.
Most organizations we studied did integrate new online donors into other channels—most notably direct mail. Although we received contacts through multiple channels, the communications rarely appeared to be integrated. And for some organizations, the cross-channel conversion efforts took shockingly long.
Here's a look at our study highlights:
Channel Integration
GOOD: Most organizations did integrate new online donors into other channels—most notably direct mail.
BAD: Although we received contacts through multiple channels, the communications rarely appeared to be integrated.
UGLY: One organization sent just one direct mail communication in the 6 months following our initial online gift.
Second Gift Conversion Through the Mail
GOOD: We almost always received an ask to make a second gift through the mail.
BAD: We were asked for an additional gift through the mail often months after our initial online gift.
UGLY: 3 of the organizations did not ask for a second gift in the mail in the 6 months following our initial gift.
Sustainer Recruitment Through Any Channel
GOOD: 75% of the organizations asked us for a monthly gift.
BAD: 25% did not ask us for a monthly gift.
UGLY: 44% of the organizations never asked us to become a monthly donor via an email appeal—even though we made our first gift online!
We approached this study armed with the knowledge that integrated communications are necessary for an optimized fundraising program.
We know multichannel donors—donors who make gifts through more than one channel—are very valuable. We have seen consistently that multichannel donors are more loyal than single-channel donors. We also know they are more likely to make larger gifts or become monthly donors, even when controlling for the frequency of giving of the single-channel donors.
From a cultivation and donor retention perspective, multichannel integration is key to achieving greater fundraising success.
But the reality of today's donor experience at several of the organizations we studied surprised even our most experienced team members. We found a wide variety in the practices for multichannel donor engagement among the organizations we studied. Some organizations are doing a great job. But for others, even the most basic principles of integrated fundraising were neglected.
As an industry, we've come a long way from the days of limited (and not very creative) personalization and mass marketing practices of old school direct mail. But this study shows there is still much room for improvement—even in some of the largest and most sophisticated direct response programs.
We are firm believers in building a multichannel conversation with donors that thanks them, inspires them—and creates friends you can count on for a lifetime of support. The truth is this, if you are facing declining retention and lower revenue from your donors, you can no longer afford to operate in a single channel world. New donors are precious to every organization. By making multichannel integration a priority for your new constituents, you will increase their loyalty and value. You'll also treat them better, offering a cohesive interaction with your organization and multiple ways to stay engaged.
Here's a few core principles we recommend to improve your multichannel fundraising program:
Tear down the database (and any other) walls that are inhibiting you from quickly and effectively thanking new donors and integrating them into additional channels of communication.
Respect the interest and excitement of new donors and quickly offer them ways to more deeply engage with you—specifically monthly giving. Our experience has shown that the probability of getting a second gift drops by half for each month you delay asking for that critical second gift. And we know new donors are most receptive to monthly giving asks.
Everything cannot and should not be integrated. But coordinated campaigns that allow donors to hear one voice from the organization across multiple channels are not only effective but allow donors to change their method of giving, which increases their overall value. Your communications should reinforce each other—not fight against each other.
You can download the full findings of our study Integrated Fundraising: The Good, the Bad & the Ugly at http://www.malwarwick.com/.
Share, Like and Post
|
Article Link
|
Comment
---
Using the Balanced Scorecard to Align Your Nonprofit: What the For-Profit Sector Has Known for 20 Years
This article was written by guest author Heather McLean, Senior Integrated Fundraising Consultant, hjc.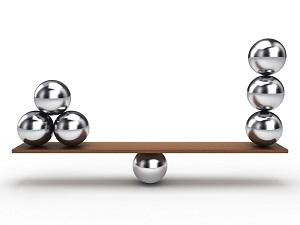 "Balanced Scorecard" has been a corporate management buzzword for about 20 years. Like many management paradigms before it, a balanced scorecard is migrating from the corporate world into the offices of nonprofit managers, as the charitable sector professionalizes and Fortune 1000 managers take leadership roles in nonprofits.
Balanced Scorecards, when developed as strategic planning and management systems, can help align an organization behind a shared vision of success, and get people working on the right things and focusing on results. However, a scorecard is more than a way of measuring results. It is a system, and communication tool, consisting of people, strategy, processes, and technology.
Historically, organizations have been wholly preoccupied with measuring their performance based on financial data. For nonprofits, this means a focus on data points, such as revenue, response rate and average gift.
The History of the Balanced Scorecard
In the 1990s, a group of researchers from the Nolan Norton Institute, the research arm of the accounting firm KPMG, began to study commonly used performance measures. Their theory was that the fixation on purely financial metrics was actually stifling growth and innovation within organizations.
With this in mind, the researchers suggested that organizations should bring a "balance" to the way they assess their business by looking at more than financial performance, but also other perspectives, such as customer, internal process, and innovation and learning.
Further, these researchers prescribed tying performance measures closely to a strategic plan by creating a measurement process to gauge how well staff are executing against the new 'balanced' plan.
Simple as pie? No, not for many companies in the 1990s when this approach was developed, and certainly not now in the charitable or public sector. Nonprofits are just becoming familiar with, and trying to use, balanced scorecards.
The Balanced Scorecard at Nonprofits
Doing the right things the right way is a balancing act, and requires the development of good business strategies and efficient processes and operations to deliver the programs, products and services that make up the organization's core business. For charities, that core business is delivering on mission – alleviating suffering, helping people get back to work, saving animals' lives. While there are differences in development and implementation of a balanced scorecard for the corporate and nonprofit sector, a disciplined process of strategic discovery used to develop one has more similarities then differences.
According to Mark Lukowski, CEO of Christian Children's Fund of Canada: "We have implemented a balanced scorecard approach within our organization to help us manage our progress in achieving our desired outcomes. This approach enables us to measure our results and make the necessary changes to our various marketing and operations programs to achieve our mission."
For charities and nonprofits, I suggest looking at six different perspectives in your balanced approach:
Revenue and funding
Resource allocation
Donors
Beneficiaries / clients
Internal operations / processes
Innovation & learning
The final two categories are always the most intriguing for integrated marketers – focusing on technology and infrastructure and the skills, culture, and structure required for integrating marketing. With a balanced scorecard approach, it is hard to ignore the business impact of integrated marketing.
Are You Ready to Try it at Your Own Organization?
Be patient -- this is a multi-step process that is not for the weak of heart or the short of patience. Developing a balanced scorecard takes a commitment to invest substantial time, energy, and talent up-front to make it work. However, the pay-off is sustainable charities with more efficient and effective practices, that are building value and innovating on their mission.
If you are up for the challenge, here are 5 basic steps:
Get your Board and Leadership Team's buy-in -- consultants can be useful here!
Appoint a balanced scorecard champion or cross-functional team as champion.
Build your strategic plan around the balanced scorecard perspectives.
Define meaningful performance indicators and targets for each strategy.
Begin to collect, analyze, report, and archive scorecard measures on a regular (e.g., monthly or quarterly) basis.
For more information, watch a recording of a session about balanced scorecards that Mark Lukowski and I presented at the recent IMAB Integrated Marketing Virtual Conference for Nonprofits.
Share, Like and Post
|
Article Link
|
Comment
---
Combining Digital and Traditional Channels for Integrated Fundraising Success
This article was written by guest authors Mikaela King, vice president of integrated marketing, Defenders of Wildlife, and Bethany Bauman Maki, vice president, nonprofit digital strategy, PM Digital.
It is hard to believe that the first quarter of the year is over and campaign planning for late summer is already upon us. Many of us started the year with resolutions of conducting more integrated fundraising campaigns. How are you doing with that goal? If, like most resolutions, integration has gotten slowly back-burnered as a goal, use the pointers below to get back on track. Do some testing through the lower risk summer months that will translate to end of year fundraising success!
Define Your Message and Goals
Before planning your campaign, really define your message and goals so that you can select the right channel mix. Each channel is good or bad at doing a job based on its:
Timeliness – How much time will you need to let your story develop before it needs to be published?
Visual appeal – Are you relying on imagery or graphic design for the majority of your impact, or is this about the written word?
Sphere of influence – Is this a one-to-one message or do you want the recipient to share your message?
Depth of content – Do you need space to tell an in-depth story or is it more effective as a short, impactful appeal?
Based on those needs, choose your channel mix. Some channels are natural complements to one another based on these four dynamics, like email and telemarketing. Don't be afraid to test different channel combinations during non-signature campaigns when the risk isn't high.
Know Your Audience
Knowing your audience is also a critical piece to successful integrated campaigns and needs to be considered in parallel with your channel mix. Are you trying to gain attention from an audience that doesn't know you yet but might be interested in your cause? Or are you trying to turn people that have introduced themselves to you into more deeply affiliated constituents? The further down the consideration stage funnel someone is with you, the more personalized and relevant they will expect your channel and message choices to be (Check out this concept by Avinash Kaushik and how we adapted it for nonprofits on slide 18 of our presentation for the recent IMAB Integrated Marketing Virtual Conference for Nonprofits.)
A Real World Example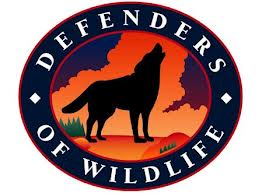 Defenders of Wildlife put these principles of integrated campaign planning to work during their effort to fight the delisting of Wyoming's wolves from the protected species list. Check out the recording of our conference presentation to hear how, for this three month campaign, Defenders:
Targeted: prospects, activists, donors and media
Through: email, print media, direct mail, telemarketing, mobile, web site content and social media
To: educate, engage, advocate and fundraise
In the end, they reached over 1 million people and raised $300,000, in addition to collecting over 82,000 petition signatures. As you plan your own integrated campaigns, remember to put a measurement strategy up front so that you can optimize your investment in future campaigns. In addition to these kinds of success metrics, look also at things like what channel combination produced your highest donations.
Want more information on planning integrated campaigns?
Check out Sarah Alexander (deputy organizing director of Food and Water Watch), Mwosi Swenson (vice president from DonorDigital), and Kevin Conroy's (chief product officer of GlobalGiving) presentation from the 2014 Nonprofit Technology Conference: "DIY: Blueprints for Building Your Best Multichannel Fundraising Campaigns".
Share, Like and Post
|
Article Link
|
Comment
---